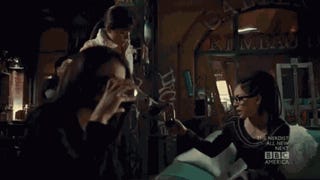 We can now add "award-winning" to Tatiana Maslany's name. This week, the Orphan Black star won a Critics' Choice TV Award, generating buzz that she could receive an Emmy nod, which, if there is any justice in the entertainment world, she will.
Remember when we threatened to BURN THIS PLACE TO THE GROUND if John Noble was Emmy-snubbed? It's time to rally people. When will Hollywood start recognizing people with genuine talent? Walter Bishop is the best character on prime time. [Emmys]
You've already seen the best thing to come out of last nights Emmys. But there were also a lot of science-fiction gems along the way. Please help us caption this picture of the only two vampires who matter.