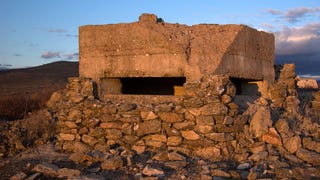 Everybody talks about the apocalypse, but almost nobody actually prepares for it. But let's say you're one of the few visionaries who actually plans for every eventuality. You've been stashing your supplies. You've built a personal bunker, or you've purchased your own spot in a communal "survival suite."
You sleep with your iPhone beside you, waking up in the middle of the night to check your e-mail? Feel anxious when separated from your smartphone?
The electromagnetic pulse. It's the big, bad boogeyman of the electronic age where we depend on a constant stream of communication and connection. Everything stops – instantly. EMPs are often used in pop culture (particularly any time Magneto wants to take over the planet) to caused widespread destruction and to…
First of all, it's not a tin foil hat. It's a tin foil safety tuque. Second of all, it's finally been scientifically proven that it guards your brain from a wireless modem's signals. The jury's still out on mind control.
Sci-fi tales are full of electromagnetic-pulse devices that blow out every computer from here to Kalamazoo. But US Army researchers are testing a short skinny high-powered microwave bomb that could actually be used in combat.
Those Pentagon heads have been playing too much Star Wars Republic Commando again, because now they want to give soldiers Electro-Magnetic Pulse grenades, according to the head of the new US Army's Electronic Warfare Division:
The year is 2019. The destroyer U.S.S. Mason patrols enemy waters, and is suddenly faced with a barrage of incoming missiles. Almost instantly, dozens of brightly colored lasers beam out of the Mason, intercepting the missiles and destroying them harmlessly in the air. Then a massive deck-mounted gun turns and takes…
As anyone who has seen the Matrix will tell you, an electromagnetic pulse (EMP) can wreak havoc on electronics. You may also know that an EMP is a byproduct of a nuclear blast-which is why the Navy has handed over $7.5 million to L-3 Services, Inc. to build an EMP generator. The device is not going to be used as a…