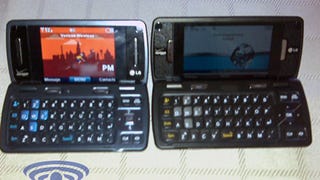 Boy Genius and other sources are showing off blurry-ass spyshots of Verizon's next ho-hum semi-smart handsets, the EnV3 and Voyager 2 from LG.
Whatever diet LG put the enV to whip it into the enV2 is fan-freakin-tastical. It's significantly slimmer, sharper and lighter. What's sweet about the midget dust magic is that it isn't smaller and sexed up just to be smaller, it actually feels much better in your hand than the blubbery original. But the keys are a…
Sprint clearly didn't want Verizon enV users to have all the messaging fun: the LG Rumor looks about the same size as the latter-day enV, with a slideout QWERTY keypad. Features include 1.3 megapixel camera, (new?) Sprint POP3 e-mail client, Bluetooth, a MicroSD card slot and GPS with Sprint Navigation. The catch, if…
Click to viewThough images have leaked here and there, not much was known about the LG VX10000 from Verizon Wireless. Sure, when open, it looks like the QWERTY-obsessed LG enV, but when closed, it's got way more of a Prada—or dare I say iPhone?—vibe. More details and full gallery after the jump.


A shot of the new LG VX10000 was recently posted in the forums, revealing what could be the successor to Verizon's enV branded phone. Other than a slightly sleeker design and what appears to be a larger screen, not much information is known. There is no word yet on pricing or availability.

[The Boy Genius Report…