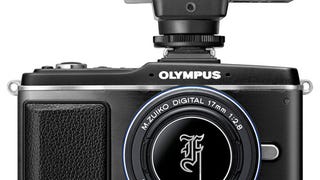 As expected, Olympus unwrapped the new all-black E-P2 micro four thirds camera today, along with 40-150mm and 75-300mm lenses.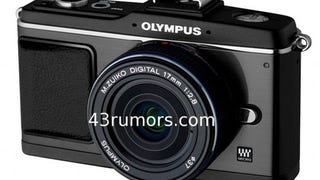 According to 43rumors, you will be able to put a new Olympus E-P2 kit with black 17mm lens and black external flash under the Xmas tree, along with a new 600mm zoom lens, which Olympus says it's the world smallest:
The greatest criticism of the Olympus E-P1, E-P2 and E-PL1 has undoubtedly been their autofocus speed. But a new firmware update increases AF speeds across these models by a promised minimum of 15%—that's using any lens you like.
What a curious day for Olympus to launch a teaser campaign for the E-P3. Their next micro four thirds camera has been glimpsed through a few fat fingers, but hey—at least we know it exists!
Now we've got what might be specs and the first look at Olympus's EP-2, supposedly announced tonight. It's decidedly less drool-inducing than the EP-1, and still doesn't have flash, but just look at that periscope-huge viewfinder. Updated.