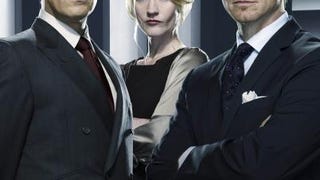 Battlestar Galactica's prequel series, Caprica, may be about the origins of the Cylon killer robots, but a lot of its storylines will deal with battles between the twelve colonies... which may actually heat up into full-on interstellar combat. Spoilers below.
Capricais almost here, and the Battlestar Galactica prequel hinges not so much on the robot butler, as its troubled leading men Esai Morales and Eric Stolz. Watch as Esai portrays Joseph Adama waxing poetically.
Can Caprica fill your need for troubled characters on the brink of self-destruction and despair? Star Esai Morales seems to think so. Adama's father describes Caprica's troubling moments and futuristic benefits, including spoilers.
Battlestar Galactica's prequel series gets a boost of confidence, as Sci Fi execs order two more episodes after the pilot TV movie. Although Caprica hasn't yet been picked up as a series, this script order looks like a really good sign. According to the Chicago Tribune's Watcher blog, Battlestar writers Michael Angeli…
Here's the man who gave William Adama his steely glare and raspy voice. The BSG prequel, Caprica, welcomes its newest cast member Esai Morales as Joseph Adama. (You may know him as the awesome Major Edward Beck from Jericho.) As we reported before, Joseph is a very troubled man with a dark past. More spoilery details…
An abandoned theme park called Playland becomes a prison without guards in Deadlocked: Escape From Zone 14. If you try to go outside a central transmitter's range, your collar explodes and destroys your head. It's a unique solution to prison overcrowding. Deadlocked mostly takes place in a world exactly like ours,…