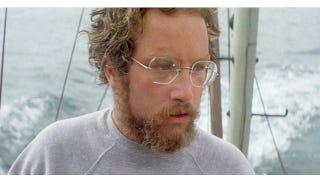 Don't worry, we never read the terms and conditions either. But we will consent to letting the Jaws and Close Encounters of the Third Kind actor Richard Dreyfuss go all thespian on our ears. [CNET]
Microsoft and Apple, already strange bedfellows if we're to believe Apple's seriously considering Bing over Google on future iPhones, are at it again, albeit indirectly. This time it's Microsoft's turn, as they present counterarguments in an Xbox 360 antitrust case.
Are we clear on this? Steve Jobs doesn't want to be seeing any nerve gas canisters with DRM-free iTunes Plus support. [Gear Live]
Windows 7 is the largest OS beta test ever. If you followed our guide you're already snapping, peeking and poking around in it. But did you read the fine print before you clicked install?
Since you probably skipped Windows 7's fine print when you hit install and it's not available anywhere else online yet, here are the license terms for the Windows 7 beta in their entirety.
Sleeping Beauty is Disney's first classic animated film to make its way to Blu-ray, and it's loaded with legitimately compelling BD-Live extra features. Format War Central tried to check these out, but got smacked with a 57 page EULA followed by a 63 page Privacy Policy before they could view any of them. Also…
Google has responded with haste to the huge outcry about a section in Chrome's EULA that gives Google "a perpetual, irrevocable, worldwide, royalty-free, and non-exclusive license" to do all kinds of dirty stuff—in public no less—to content you post through Chrome. Rebecca Ward, Senior Product Counsel for Google…
So, are you enjoying the snappy, clean performance of Google Chrome since downloading yesterday? If so, you might want to take a closer peek at the end user license agreement you didn't pay any attention to when downloading and installing it. Because according to what you agreed to, Google owns everything you…
If you thought Mac cloners Psystar were going to go on the Apple chopping block without a whole lot of fuss...think again. The case is about to get a lot more interesting now that their defense team seems prepared to play the antitrust card in court. As Colby Springer, one of the lawyers on Psystar's team noted:
Psystar, who's just announced that they're going to sell a $399.99 Mac clone called Open Mac, doesn't care that Apple's EULA prohibits using OS X on any machine not made by Apple. In fact, they say that Apple's terms "violate U.S. monopoly laws", posing the example of Microsoft theoretically saying you could only…
Planning on formatting your hard drive to lay down a nice, clean install of Vista Ultimate Home Premium where you had XP? Well then you had better plan on spending $80 more than you originally intended. It turns out that upgrade versions of Vista won't accept your old XP CD as proof that you really are just…