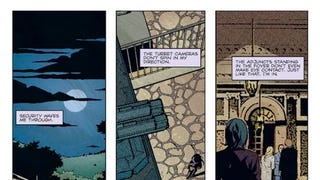 Cobra Commander isn't the only familiar face appearing for the first time in IDW's new Cobra series; the more obscure (and more awesome) Croc Master is making his debut, as well. Click through to see the weirdness in action.
How better to count down the days to Hallowe'en than by giving you a showdown between a classic horror icon and hero of more recent vintage? What you need may be Angel Vs. Frankenstein. Click through for an exclusive preview.
What happens when voodoo resurrects a cop killed before his time? Lost writer Paul Zbyszewski offers an answer (and a new take on zombies, along the "thoughtful, vengeful" lines) in his debut comic, Life Undead. Click through for a preview.
Self-mutilated gender-confused antagonists who happen to be related to perverse double-jointed supervillains? It can only be Gail Simone's morally dubious DC Comics series Secret Six. Click through for a preview of this week's issue.