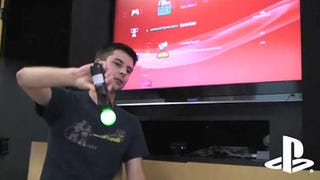 In part one, Sony explained that next Spring's glowing wand will have rumble feedback. Here, Anton Mikhailov (the guy from the E3 demos) dishes the prototype was built using parts from Home Depot, and caused a stir with airport security.
Sony, you're such a tease. The PlayStation motion controller wand won't hit shops until next Spring, but SCEA research head honcho, Richard Marks, gives a pretty interesting look at its background and capabilities in this video.
Remember that crazy, bulbous PS3 motion controller spotted in a Sony patent app? Well a newly uncovered Sony application is slightly less Requiem for a Dream and slightly more Captain Planet.
A bunch of programmer/hackers have come up with a driver solution that'll get your PS3 Eye off its lazy ass and functioning as a webcam for your PC. Why's this interesting? Because it's relatively cheap, and actually pretty high-spec'd: it can deliver VGA video at 60fps over USB2, which makes for neat webcam action.…
It looks like the PS2 is going to beat the Wii MotionPlus to market in delivering one-to-one swordfighting. It's using the EyeToy-the camera peripheral released in 2003-to map your motions with a toy sword onto actions taking place on the screen. You'll get "first person gameplay" where "you are the hero of the game,"…
Circuit City's enticing you to buy the Eye of Judgment game + camera accessory for $40. Why's this a good deal? Because the normal retail price of this is $65. Even if you're not interested in playing a card game that you have to then scan in with the camera and play on TV, you can still use the camera for recording…
If the PlayStation 3's Eye of Judgment ever got drunk and made some bad decisions in Tokyo's nefarious Kabukicho district, the resulting offspring would probably resemble this Cyber-Maid Augmented Reality device from Geisha Tokyo Entertainment. The "Dennoh Figure ARis" (Cyber Figure Alice), on sale this fall, will…
If you're at all curious about how the PlayStation Eye works, Penny Arcade's got you covered. Har har. Now if you really want to know how it works, check out this interview with the creator to get an insight into their decision making and see what improvements they've made over the EyeToy.
This is the Eye of Judgement CRAAAAW—you know, because it looks like a claw. This monstrosity of a device is actually a PS3 camera peripheral for the Eye of Judgement game. The game itself is somewhat odd. A three by three grid is placed on the table with this camera mounted beside it. Once cards are played the…