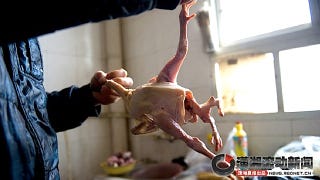 Goodness, this is difficult to look at. Last week, a shopper in the Chinese city of Changsha bought this frozen chicken from the supermarket, only to discover that the skinless fowl possessed four delightfully mutated legs. According to a university professor consulted by the website China Buzz, the chicken is…
Do you prefer your scotch neat or with an extremely phallic xenomorph skull? If the answer is in the affirmative, then these ice cube trays by Japanese modelmakers Kotobukiya really belong in your freezer. Click on the lower-right of the above image for the veiny detail.
Instructables user Kaisei13 may have outdone the Tauntaun sleeping bag with these diabolical Alien slumber accoutrements. Who wants to tuck their kids into a xenobiological egg?