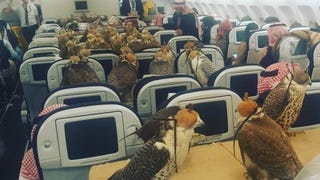 Reddit can feel like a cesspool of hate most days, but occasionally, it turns up some internet gems. Today, for example, a user posted a bonkers photo of a posse of large, intimidating-looking birds chilling on an airplane.
Oh yeah and if you have any worms or whatever, insert 'em HERE! K thanks! This pair of li'l baby falcons was born on a farm near the northern Serbian town of Coka. Once they're grown, these birds of prey will be trained for falconry, a practice which dates back to 2,000 BC.
We're so glad you asked. This video – shot by an eagle with a camera mounted on its back – gives us a spellbinding look at what it's like to wheel gracefully over the Mer de Glace in Chamonix, France. Good grief, talk about a stunning view.
Helmet cams are amazing at getting a first person perspective on any situation, you're literally able to see what they see. So how about attaching a little helmet camera to a falcon? Yep, you get to see what it's like to fly (surprisingly not shaky!) and see what it's like to hunt and kill (unsurprisingly messy).