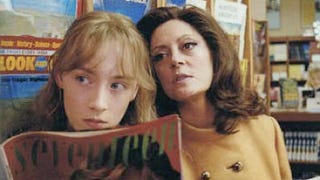 After taking plenty of hits from critics and facing a dismal soft opening, Lovely Bones ramped up its ticket sales by playing to a new crowd: tween and teen girls. Will this spark an insurgence of thoughtful supernatural women-targeted films?
We called the "angels are the new vampires" trend months ago, and already the facts are stacking up to bolster our claims. Disney's purchase of Lauren Kate's tween againsty angel book Fallen adds fuel to the sexy angel fire.
We've already seen the dreaded Cobra Commander's live action face reveal in toy form forG.I. Joe. But actor Joseph Gordon-Levitt thinks the character's Daniel Day-Lewis good. We're still not sold... especially when he compares it to a Russian Clown Show.
We're not saying that the Earth may actually come under attack from giant robots, but if that were to happen, apparently Transformers: Revenge Of The Fallen would be a surprisingly realistic portrayal of how the US military would fight back.