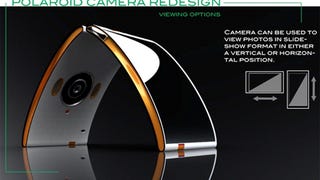 So far, I've not been too impressed by the design of the reissued Polaroid cameras. Perhaps they can work alongside designer Evan Jardee, who cooked up this glossy flip concept which looks more like a phone than an instant camera?
One of our favorite apps for the iPhone is the iTunes remote, so we're thrilled to see one for Android. Jeff Sharkey says that he reverse engineered the remote protocol from the iPhone and touch and used it to create an iTunes remote for Android (a process he details here). As you can see in the video, it looks…
The $500 Xross Fade DJ system is Sony's hard-to-pronounce dual iPod dock kit for mixing songs. It may have some rad-looking bass reflex speakers and dual subwoofers, but it's unfortunately gimped as far as DJ features go—you can cue and crossfade between songs, a technology straight outta 2005 and something you could…
This is a backpack that doubles as a birdcage. You can carry your bird around with you. On your back. In the birdcage backpack. TGIF, am I right, guys?? [Designboom via Coolest Gadgets]
Nikon has been sending out press invites for an event on September 3rd. What could they possibly want to talk about just a few weeks before Germany's Photokina expo? It could be Nikon's sequel to their D80, the D90. Or, it could be the 24.4-megapixel D3x that was spotted in Nikon firmware. Or, in a slight breach of…
Fans of driving games traditionally either had to put up with filmsy wheels that made racing less convenient than using the standard analog stick controllers. With the Xbox 360 Wireless Racing Wheel from Microsoft, lousy first party racing accessories are a thing of the past.
We recently told you about Wicked Laser's new Sonar model, a pocket laser made from the Blu-ray diode (ripped from the still-beating heart of a Blu-ray DVD player).
The 360 HD DVD player may not be available just yet, but you can get some breathing room on everyone else this Xmas by pre-ordering yours today. Amazon has it only $199 with a release date of November 7. Goes great with the recent 360 update that enabled 1080p, but broke 360s, then was re-released.
With all the Windows Mobile phones we cover here, more than a few readers probably took the plunge and picked up a WinMo phone for themselves—then subsequently discovered that they need to download third party apps in order to make the phone great. Lifehacker's got a few tips on which ones you should make room for.
Remember that video we lnked to a while back with some guys playing with this ridiculously cool dual-propeller hovercraft/plane/thing? The video is gone, but now it's a real product.