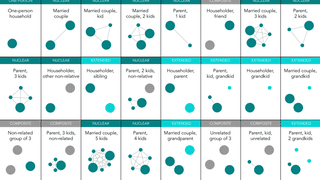 Statistician Nathan Yau of Flowing Data has compiled a beautiful and revealing infographic showing the 50 most common family structures in the United States. As this clever visualization shows, the nuclear family—though the most common—is far from the only one.

A judge this week granted two women and a man the right to claim legal parent status of a baby born in late August. All three parents have their name on the baby's birth certificate, thus laying claim to being the family in the world with three legally-recognized parents. But maybe they're not the last.
As many parents can attest, siblings tend to be more different than alike. Some of this may be the result of our birth order, and how we're subsequently raised. What's more, birth order may influence our health and sexuality too. Here's what you need to know about how your birth rank affects your life.
Babies with three parents are no longer the stuff of science fiction. A British ethics board has just approved an experimental treatment that results in babies with genetic material from two women and one man. Also, there's evidence that babies born using egg and sperm donors receive genetic input from more than two…