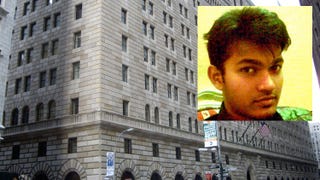 This guy is Quazi Mohammad Rezwanul Ahsan Nafis, a 21-year-old Bangladeshi student who traveled to the United States with the intention of carrying out a major terrorist attack. He wanted to blow up this building, 33 Liberty Street, the home of the Federal Reserve Bank located in the heart of the New York City's…
Anonymous already has a diverse set of tactics, including showing up to awards ceremonies. But the NSA is worried that its cyberattacks could bring about power outages across the US.
Since 1946, electronic media coverage of federal district courts has been expressly prohibited. But now, fourteen federal trial courts and 100 judges will participate in a three-year digital video pilot, a first for the Federal Judiciary.
Generally, the government doesn't meddle too much in Amish affairs—it doesn't make them educate children after the eighth grade, for instance, 'cause of the First Amendment and all that. So it's kind of surprising to see many Amish threaten to quit farming in a battle with the government over lojacking their livestock…
MSNBC had an impromptu demonstration of its new Microsoft Surface table this morning, and gave political analyst Chuck Todd a chance to play with his dollies. At first, the goateed Todd moved states around, zooming, coloring and highlighting with his finger. Though he didn't really have a full handle on all the…