Trader Joe's announced a voluntary recall of their Triple Ginger Brew this week due to an unlikely reason: Bottles were literally bursting open by themselves. But why was it happening? We think we know the reason.
Chocolatiers use yeasts to ferment the cocoa when making their tasty confections, which helps guard against the occasional bad-tasting batch. Those same yeasts can also be used to alter the aroma, providing a new means of making designer chocolate tailored to match your favorite flavors.

Watching the fermentation process of beer is a lot like seeing a brown sludge monster grow in strength. It's not pretty. But then you remember how delicious beer tastes and how wonderful it makes you feel and you forgive it for looking so unsightly. Or at least I did. I think this time lapse is beautiful.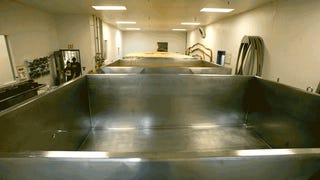 What you are about to watch is beer getting weird. Before California-based brewery Sierra Nevada bottles Bigfoot, its classic barleywine-style ale, the wort goes through a six-day fermentation process that sees a whopping 24,000 gallons of liquid appear to bake like bread, roil like a contaminated foam party in Ibiza,…