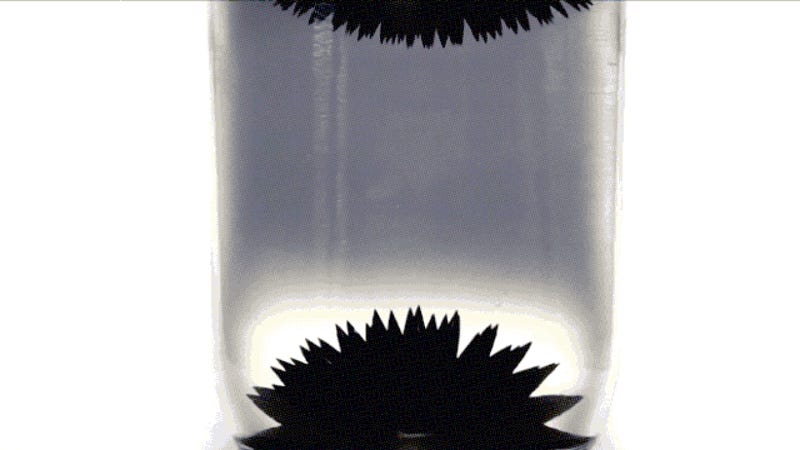 Ferrofluid is a magnetic liquid, invented by a NASA engineer in the 1960s, that has, in recent years, become a popular medium among scientifically inclined artists. Ferroflow is an interactive desktop sculpture that makes it possible to play with ferrofluid—needless to say, we want it.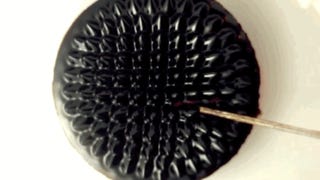 Switzerland based photographer Fabian Oefner specializes in combining art and science. Here, you can watch him manipulate a ferrofluidic art piece (comprising oil, watercolor, and magnetic, nanoscale iron particles) commissioned by Guster for their forthcoming album, Evermotion.
Ferrofluids are liquids that become super magnetized when they're in contact with a magnetic field. Ferrocious is a ferrofluid sculpture that uses the hyper-magnetic material respond to sound, like a high-tech musical lava lamp.
It's likely that you've seen video of ferrofluids doing things like growing spines when exposed to magnets, or being built up into sculptures by artists using magnetic fields. But what if they're not just artistic triumphs? What if ferrofluids can act as models and let scientists learn about the multiverse?
Oh, ferrofluids, is there anything you can't do? Researchers led by MIT's Markus Zahn have devised a technique for separating oil from water. Using magnets. Tiny, tiny magnets that temporarily transform polluting oil into a magnetically manipulable ferrofluid.
Click to viewSachiko Kodama is a physics geek turned artist whose intimacy with the laws of magnetism has led her to create art out of magnets and oils filled with magnetic particles. As the magnets interact with the magnetized water, she's able to create amazingly weird, oily shapes that mutate and flow seemingly…