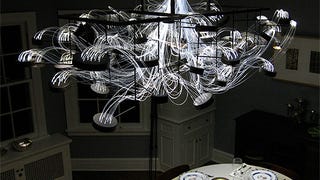 No, that's not a sentinel hanging from this family's ceiling. It's one hundred petri dishes attached to 15,000 feet of fiber optics...perhaps pausing for a moment before reaching down to strike at those dining below?
Now we know why Verizon decided to double our FiOS cancellation fees. They have unveiled new bundle options that deliver up to 35Mbps upstream and downstream and 90 or more HD channels.
Police in San Jose are investigating two incidents involving severed AT&T and Sprint fiber optic cable that knocked out landline, cellular and internet service to thousands of Silicon Valley residents.