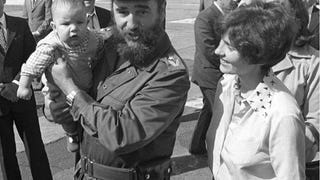 This photo of Fidel Castro holding a baby went viral back in 2015, when Justin Trudeau was first elected the Prime Minister of Canada. Numerous websites claimed that the baby was Justin Trudeau. And now that Castro has died, we're seeing the photo spreading far and wide yet again. But that's not Justin Trudeau. It's…
Following nearly five decades in power, Fidel Castro, the former Cuban president, has died at the age of 90. El Commandante, whose 1959 revolution overthrew the American-backed dictator Fulgencio Batista, survived some 638 attempts on his life devised by the CIA and Cuban exiles.
The internet is a big place. There's so much to read and watch and listen to that it can be overwhelming. We all have those stories that we start, get distracted for one reason or another, and promise ourselves we'll finish later. Well, if any of those stories were on Paleofuture, here's your second chance!
John Kerry watched a soldier hoist the American flag over the United States Embassy in Havana on Friday morning. He's the first secretary of state to visit the land of Castro, communism, and cigars in 70 years. The embassy itself, an acclaimed example of midcentury modern architecture, has been rotting for just as…
Just 90 miles off the tip of Florida lies a half-baked, abandoned relic of the Cold War-era arms race—what was once going to be a joint Cuban-Soviet nuclear reactor. And thank god it never panned out. Because not only do we now have these incredible shots from photographer Darmon Richter, but every last aspect of…
At 87, Fidel Castro is not as young as he used to be, so it shouldn't come as a huge surprise that he wears a hearing aid—but that didn't stop AP contributors photoshopping the device out of images of the ex-Cuban President.