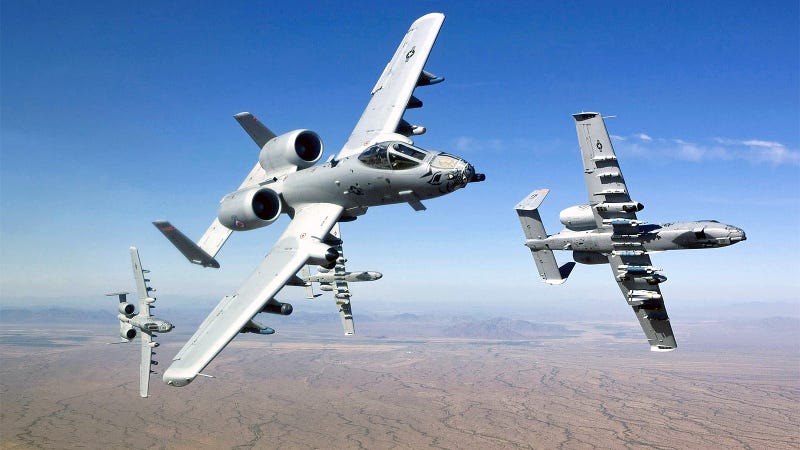 Some jet fighter photos look so perfectly choreographed and sharp that I automatically think they must be computer generated frames from some movie or game. These ones are very real. When I see them, I hear someone in my head screaming "EVASIVE MANEUVER!"
On Friday, the Navy quietly released a "market survey" asking the big defense contractors for their "candidate[s]" for "strike fighter aircraft" in the decades to come. Which is a little weird, considering the Pentagon is currently spending a trillion dollars on just such an aircraft: the troubled Joint Strike Fighter.
Libya's air power is destroyed. Its ground power is (largely) blasted. All because of a persistent storm of aircraft enforcing a strict no-fly zone—planes like this French Super Etendard fighter, dumping a plume of fuel across the sun.
The United States Air Force is now looking for a F-22 Raptor replacement. It must be in service by 2030 and, for the first time ever, they want to be able to deploy these combat fighters unmanned and remotely controlled.
The F-35 Lightning II, allegedly the most advanced fighter in the world, has been tried for the first time by a military service pilot. Lt. Col. James "Flipper" Kromberg of the U.S. Air Force, who can be seen in the video wearing one of those scary demon helmets, took off from Lockheed Martin's Fort Worth plant,…
The British Ministry of Defence has eliminated missiles and other projectile weapons in favor of a more open, glass covered cockpit offensive. Why? Their new tactic is to fly as close to enemy aircraft as possible while wearing this prototype helmet to make the opposition shit themselves to death. Victims won't be…