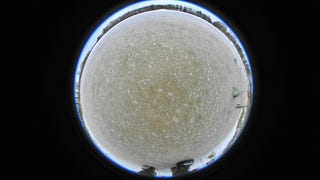 Fisheye lenses distort a scene to absurd proportions—which is why fisheye photography is so fun to see. Here are your fisheye photos from this week's Shooting Challenge.
Fish are lucky. Because they get to see 180 degrees or so at once. Photographers can do the same using fisheye lenses (or cheating it with a filter). So for this week's Shooting Challenge, we're all going fishing.
We've seen all manner of SLR trickery in the past, but Bhautik Josh has cobbled together a fisheye camera from a soda can. Sounds totally MacGyver, but he's put the steps up on his blog for you to try out.
This Demekin Pocket Fisheye Camera is a tiny, foldable fisheye camera. Pretty awesome, right? But wait, it takes 110mm film? Yeah, thanks but no thanks. [Product Page]
We have seen several different add-on lenses designed to enhance the iPhone camera, but these versions ditch the case in favor of magnetic mounts. There are also three different lenses to choose from.

The Lomo cameras were originally known for their leaky bodies that contaminate film with errant light — perfect for art house photos. This 35mm fisheye film camera improves upon Lomo's best selling first with more image distorting capabilities, and a metal case. More, details, and sample shots, after the jump.