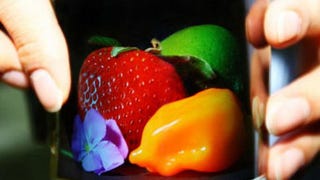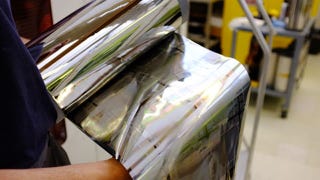 One of the main advantages of OLED is that it can be flexible—so flexible, in fact, that it can be wrapped around a pencil. Taking 2007's .3mm prototype Sony's made a new one just 80μm-thick.
Because even aquatic life needs to experience the hype surrounding flexible OLED displays, Kodak dunked one of theirs into a tank of water, turned it on, and recorded what happened next with a few pictures:
Making a regular OLED display is, like, hard. So you can imagine making a flexible one just totally sucks. Arizona State's Flexible Display Center and Universal Display Corporation have a new way to make bendy OLED screens that might make mass production possible in just a few years.
The Universal Display Corporation (UDC) have themselves a wrist-worn, flexible OLED prototype that they built with support from the US Department of Defense.
Samsung has unveiled an ultra-thin 'flapping' OLED screen at FPD International 2008, demonstrating the flexibility of the display by letting it bend and flutter in the wind. At a paper-thin .05mm, the 4-inch screen is still able to create an image of 480x272 pixels, with a 100,000:1 contrast ratio and 100%…