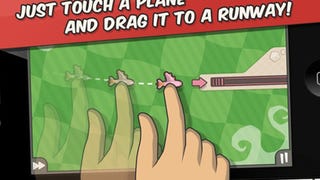 Firemint, maker of the superb line-drawing game Flight Control, has released a demo version on iTunes. If you would like to see what the fuss is about or are a big fan of the movie Pushing Tin, it's there now.
Flight Control, the uber-popular iPhone game, recently got an update on iPhone and iPod Touch to include online multiplayer through Game Center. The new multiplayer mode (already available on iPad) is just as addicting as the single player: you land either red planes or blue helicopters and yellow planes and send the…
One of my favorite iPhone and iPad games is now available for PC and Mac: Flight Control. It's being distributed on Steam for $5 and includes an exclusive stunt level that looks great: Fly through gates to get extra points!
If you've ever played Flight Control, Harbor Master, or the original Train Conductor, you'll love Train Conductor 2. If you haven't played any of those, you'll still probably love Train Conductor 2. It's a fast-paced, time management game.