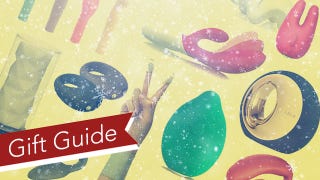 There's something romantic about the holidays—the nice smells, the crackling fire, the snuggling under blankets. So it's understandable that you might want to get your boo a special toy. It's also understandable that you might be nervous about putting that toy under the tree. Because, you know, family.
When it was announced, I said that the Form 2 sex toy looks like a Millennium Falcon. Manufacturer JimmyJane wrote saying that they agree, which is why they created this side-to-side comparison between the Form 2 and Han Solo's ship.
The Form 2 sex toy is definitely more conventional than the crazy Sqweel ten-tongue demon. At first I thought it looked like the silhouette of a rabbit's head. Then it clicked: The Millennium Falcon. Chewie, you are one naughty rug.