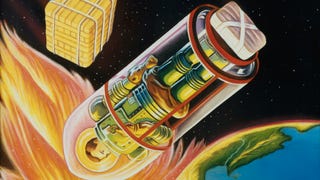 Anton Brzezinski has made a name for himself with his homages to surrealist artists like Dali, and has styled himself "the Polish Picasso." But he got his start painting giant reproductions of Frank R. Paul's classic science fiction magazine covers for Forrest E. Ackerman, with colors that burst with life.
Science fiction can warn us about potential disasters, and school us about the downsides of knowing too much — but a lot of the best science fiction inspires us, instead, by showing how people can solve problems and conquer ignorance. What's the most uplifting piece of optimistic science fiction you've ever seen?
There's something especially wonderful and bright about pulp science fiction cover art, and the Golden Age blog has collected tons of the stuff. Prepare to have the next hour of your life devoured by monsters and robots from the Golden Age of science fiction.
Over in The Atlantic, there's a great quick-and-dirty history of the science fiction book cover, courtesy of the folks at SF bookstore Singularity & Co. Starting with the pulpy artwork of artists like Frank R. Paul and others, the covers progressed into some fairly cartoony images of aliens and rocketships in the…
Although Hugo Gernsback is best-known among fans for creating the first-ever magazine devoted to science fiction, he published a great many science fiction magazines, continuing well into the 1950s. However, while science fiction evolved and progressed around him, he remained firmly rooted in the style of the old …