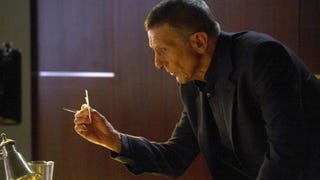 Last night on Fringe, we drank worms, did drugs, and stole cryogenically frozen heads. But more importantly, we finally got to see Olivia's visit to the other universe, and hear Leonard Nimoy explain all about the coming interdimensional war.
OK, so here is what happened on the surface of the brain-twisting episode known as "There Is More Than One of Everything." Olivia and the Scoobies are investigating two related cases: The shooting of Massive Dynamic VP Nina Sharp, and a bizarre incident in New York where a truck barreled out of a shimmering hole in…
All the conspiracies started to make sense last night on Fringe, in one of the most rewarding episodes ever for people who love the show's mythology. For those who don't, there were Trek jokes. Spoilers!
Nothing like a little recreational spine-severing, Syphillis-engineering, and more hints about a secret underground science society known as ZFT. That's why last night's Fringe made us feel all grody-happy inside. Spoilers!
We've been dying to know more about Olivia's strange powers, possibly connected to childhood experiments, and definitely connected to a vast science conspiracy involving supersoldiers. And in last night's Fringe, we got our wish. Spoilers!
Fringe never lets me down. In last night's episode there was a giant monster that defied all laws of science and made me think of the Trogdor song from Homestar Runner. Spoilers ahead!
Fringe came back last night, and it was great to worm back inside its spooky world of human science experiments and penis jokes. Spoilers ahead!
Last night's episode of Fringe brought us back to the central mythos of the show, the Pattern, and gave us all kinds of juicy clues about what's at stake - and about Olivia's "ability."
Not only did last night's episode of Fringe have some great nipple commentary, occasioned by a virus that Hulks people out, but it also brought us some closure on a big mystery.
Although Fringe got off to a rocky start last week with the two-hour pilot about weird viruses, this week's episode was quicker and more fun. In many ways it felt like the real pilot, with all our characters being reintroduced along with the show's central conceit: There is a "pattern" of pseudo-science weirdness…