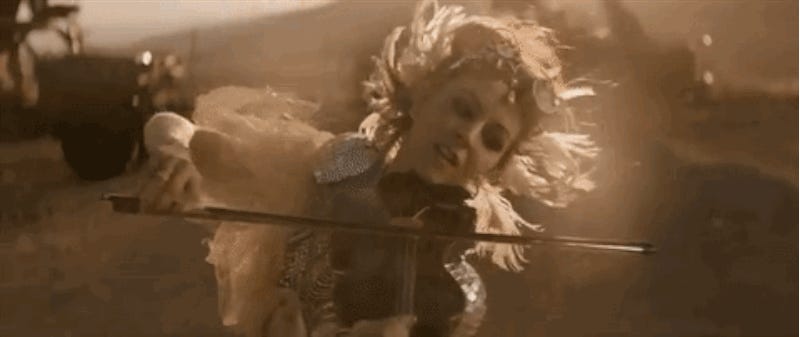 I hadn't heard of musician Lindsey Stirling before her new video for "The Arena," but she appears to have cornered the market on violin-infused electronic music. She also dances better while wielding a violin than most people can with nothing in their hands. And she seems to be a Mad Max series fan.

We've featured Brandon Bird's fantastic pop art on io9 before, mainly because it is uniformly awesome. But his newest piece, in which a certain post-apocalyptic rocker has been ousted by the maddest man of all, Kenny G, may be our favorite yet. Check out more of Bird's mind-blowingly great pieces on his website.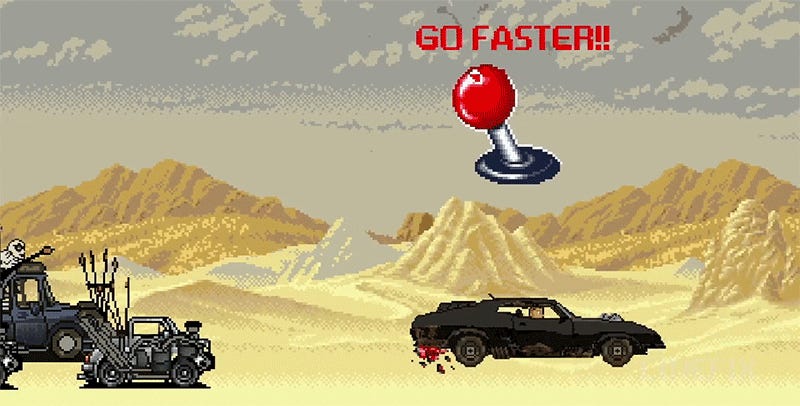 Oh my god. Since Mad Max: Fury Road was essentially just a linear car chase scene that went in one direction and then turned around and went back in the other direction, can you imagine how perfect a side scrolling video game it would make? Add all the crazy vehicles and the weapons and Furiosa and it would be the…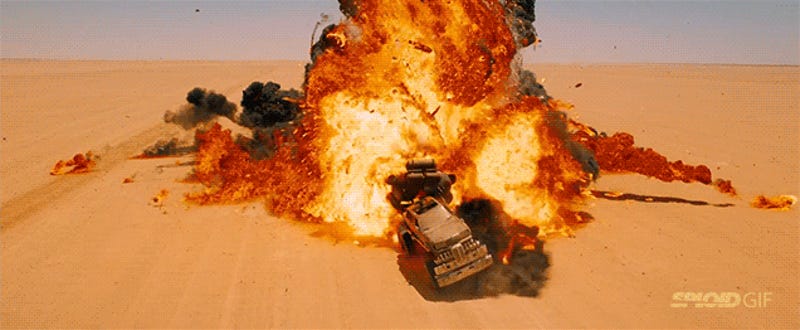 If there is one thing all of humanity can agree on it's that Mad Max: Fury Road was pretty much the most awesomest action movie this year. But it's even more awesome to think about how impossible that awesomeness was: it's a franchise whose last movie was 30 years ago. Its director did Happy Feet and Babe. Mad Max…
There were three major attempts to resurrect old franchises this summer: Mad Max: Fury Road, Terminator Genisys, and Jurassic World. One was a critical hit with modest commercial success, one was a failure at both, and the third was a greater commercial than critical success. What lessons can we learn from them?
As excited as I am about Avengers 2, I think Mad Max: Fury Road has a solid chance at being the surprise hit of the year. Its awesomeness comes in large part being a truly modern version of George Miller's original classic Mad Max movies — as illustrated perfectly in this new international "Legacy" trailer.
This is a nice exercise in film editing, and in comparing the new Mad Max movie to its predecessors. Youtube user Mad Max Dedication uses footage from Mad Max II that matches footage in the Fury Road teaser from ComicCon to make a trailer for The Road Warrior that looks really great.
There's been a lot of movement on the Mad Max 4 front in the last few days, including confirmation of the movie's title, a date being given for production beginning, and director George Miller talking to reporters about the project.