The low-end 21.5-inch iMac can now be configured with Apple's Fusion Drive for $250. You won't regret it. [MacRumors]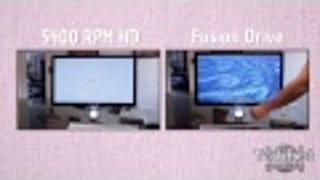 When Apple announced Fusion Drive, we expected it to be quick. But TLDToday has performed some speed tests, comparing a new Mac mini to its predecessor, and the results are pretty amazing.
While introducing the new ridiculously thin iMac, Apple also revealed its new Fusion Drive. What is it? It's a new storage system that supposedly combines the best of SSD and HDD. Basically, the speed of a SSD with the storage space of a big spinning HDD.