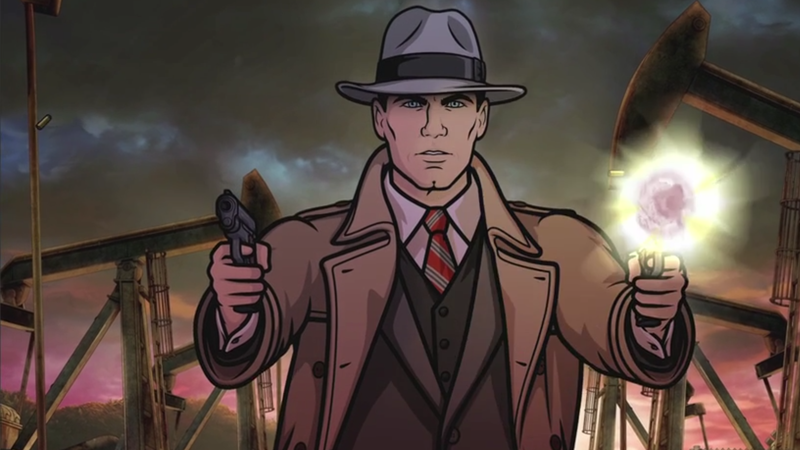 The show's done spy-fi. It's done '80s P.I. shows. And now, the latest target of Sterling Archer and friends is the seedy world of noir. It looks incredible.

Archer is heading to a new network, FX offshoot FXX, and a new era. Though the show has traditionally had a lot of fun never specifying exactly when it's taking place, season eight, subtitled Dreamland, is most definitely set in the past. We get our first glimpse of the 1940s milieu in these two quick promo clips.

When news broke that Archer's Adam Reed and Modern Family's Megan Ganz were teaming up for a new animated show set in a post-apocalyptic American south, people were understandably excited. But bad news: despite a full run of episodes being commissioned, Cassius and Clay is already dead.
Did you miss that Wheel of Time special that FXX snuck on the air Sunday night? Well, the 30-minute pilot (titled "Winter Dragon") is now online for your viewing pleasure. And don't forget to check out our exclusive scoop on how and why this got made — without the approval of Robert Jordan's estate.
Well, the FXX Network aired something related to Robert Jordan's bestselling fantasy series last night. Subtitled "Winter Dragon," no one seems to know what exactly it is. A failed pilot? A stealthy promo? Something else? As we investigate, ODeck's Nicole has an excellent breakdown of... whatever it is.
It's here! The highly anticipated Simpsons World portal is open for your entertainment. Go forth and browse all 552 episodes, find and share clips, and use the impressive search function to look up every single appearance of Sideshow Mel. But wait, there's more!
As the longest-running sitcom on TV, The Simpsons has accumulated a trove of digital content that's record-setting in almost every way: a staggering 552 episodes from 25 seasons. This October, FXX will launch an app that lets fans (with a cable package) stream every episode, on any device—plus give them…
Until now, Simpsons fans have been relegated to rewatching old episodes on grubby DVDs or downloading them one-by-one on iTunes. A new portal called Simpsons World will launch in October that will allow anyone to browse episodes and share clips—however, to actually watch all the episodes, your cable plan will have to…