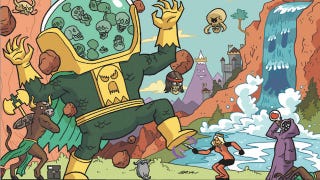 On a world where nearly every girl is a princess, not every princess is going to sing to birds or go off looking for her one true love. Princess Christi, the star of Brian McLachlan's The Princess Planet decides to trade in her ball gown for a spandex suit. With her snowman companion, Princess Christi travels her…
Does size matter? While they sure chose the wrong room acoustics (or microphone) in this experiment, watch a man deflate whoopee cushions of all sizes, from extra small to extra large.
There's actually a lot more to this bloody shower curtain Halloween decoration than meets the eye. There's the obvious stuff, of course, like the homage to Alfred Hitchcock classic Psycho. And the blood splatters and hand prints themselves say a lot about the owner. But beyond that, there's a little something extra in…
Had enough of the pooping gadgets yet? Yeah, me neither. Bathroom Louie is a little guy who provides a bit of bowel encouragement. It is sound-activated. When bathroom Louie hears some bodily noises he will start making more repulsive noises of his own from every orifice followed by wiggling an a "Hal-le-lu-jah!" at…
If they've got Rubik's Cubes for the blind, why not one for the lazy? Speaking of lazy, whatever happened to those omnipresent moving walkways, auto-shavers, and sexy, sexy robots from The Jetsons? We thought the future was supposed to be so lazy-friendly, when it turns out we have to do even more work than before.
Oh-ho! Show that RIAA what you really think of their lawsuits with this RIAA-labeled toilet paper. Make sure every wipe contains the full RIAA letters, or you may be wiping that behind to spite to Irish Aviation Authority (IAA) and that can't be a good thing. Drunk Irishmen in planes is someone to not piss off.
Some blokes—that's British for guys—in Britain posted this full XBox 360 experience package, currently going for about $10. It's not a 360 per se, but it's actually these guys dressed up like aliens who will shoot you with paintballs to get the real-life thrills of Halo 2 (??)—"For another 50 quid Andys brother…
In all honestly, this is one of the worst manufactured nose hair trimmers on the market today. The actual nose hair trimming portion is under half an inch long, definitely not far enough to get those deep hairs near the Corpus Collosum. And the finger portion is proportionally wrong, not wide enough to allow access…