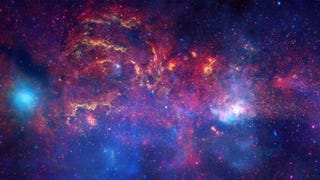 A TUAW reader has managed to spot an iPod onboard the Space Shuttle Endeavour, which is currently floating around in a giant vacuum. The hawk-eyed reader spotted the iPod from official NASA photos, which showed the device, barely visible, through a cabin window. Interestingly, iPods cannot be taken into space…
You may remember that Virgin Galactic planned to build a Spaceport in New Mexico. Well, a winning design has now been chosen, and construction on the 100,000-square-foot facility is set to start in 2008. Is it just me, or does "spaceport" sound a little bit too sci-fi?
You may remember Gizmodo's worldwide scoop where bloggers were hugging/fondling spaceships while reporting on Virgin's new SpaceShipTwo cabin designs.