Got a Galaxy Note II? Ne'er-do-wells can use this trick to peek past your lockscreen for a second, but not much else.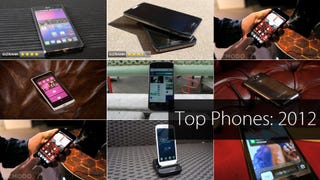 The smartphone market of 2012 has seen some heated competition. The usual contenders all released solid hardware. But the dynamic between them changed, too—Windows Phone arrived as a serious third OS option, and 2012 ended with exciting new models of iPhone and Android devices. Here's a look at the best new products…
The original Galaxy Note was very not good, but seven months and 10 millions sales later, it's hard to deny that it's found a niche. But will its even beefier successor live up to the hype? We just spent the morning fondling the upcoming Galaxy Note II, and you know what? We're pleasantly surprised.
If you've had your eyes on the new Samsung Galaxy Note II, or have been pining for the Samsung Galaxy Camera, they just got a little more appealing. Dropbox will be offering a free 50GB account to anyone who buys either of those devices.
We may not be the biggest fans of Samsung's giant phone movement, but apparently consumers have decided otherwise because Sammy is trotting out the Galaxy Note II: a 5.5-inch brute of a phablet running Android Jelly Bean. And with a screen so big, it promises to be fully compatible with the pressure sensitive S-Pen.