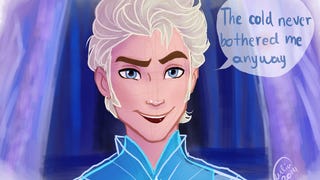 Frozen offered us a slightly different take on the Disney princess story, but what if its main characters were princes instead? Artist JuliaJM15 flips the film's genders and introduces us to the Snow King, Prince Andrew, and the ladies around them. Frozen spoilers below.
We've seen gender-swapped superheroes, now the villains are getting in on the gender-bending act. Priscilla Tramontano takes some of the Marvel universe's more fearsome male villains and gives them female form.
Jess Fink, of the fabulous robot porn comic Chester 5000 XYV (NSFW), is creating these gender-bending valentines for for ComicsAlliance. She's obviously having fun with these romantic role-reversals, including playing with the ways these heroes and anti-heroes typically dress. Buffy (now just Buff) wears a tight,…
Inspired by the Gender Bent Justice League cosplayers at last year's San Diego Comic-Con, artist Yasmin Liang decided to create a comic book-style illustration of the gender-flipped superheroes.