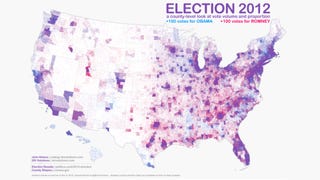 There are no red states or blue states. There are purple states. Mauve states. Violet states. You've probably seen maps that depict America's blended political landscape before ("we are not that divided" writes Jesus Diaz over at Gizmodo), but odds are you've never seen one quite like this. It was created by…
Many factors contribute to the global distribution of Earth's oceans, but the strongest by far is the centrifugal force that results from our world spinning about its axis. This raises an interesting question: how might our planet's water be apportioned if the world gradually stopped spinning altogether, thereby…
How do you turn your pizza delivery bike into a TRON light cycle? Simple: slap a GPS tracker on the back, run your delivery routes, then add the light ribbons in later. Do that with enough bicycles, and you get the beautiful view of nighttime delivery routes featured here.
Good news for penguin-enthusiasts everywhere (that's all of us, right? Good... just checking): scientists studying emperor penguin populations in Antarctica have tallied almost 600,000 of the birds waddling around the icy continent. That's around twice as many as they were expecting to find — but what's really…
Some of America's biggest historical events, like Gettysburg or the Dust Bowl, are also some of the most complex—and rife with contradicting accounts. A new digital mapping system aims to apply Google Earth-like functionality to American History's mysteries.