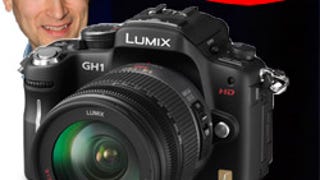 Hopefully things are cloudiest before they clear up: Nobody buys real camcorders anymore, entry-level DSLRs are all about HD video, and NYT's David Pogue picks Panasonic's Lumix GH1 as the current 1080p shooting champ.
We usually don't dish on Asia-only release dates to preserve your Occidental sanity, but since price and date for the U.S. drop of the new Micro Four Thirds, 1080p-capturing GH1 is still mysterious, let's look.
Panasonic has just gotten around to releasing their next Micro Four Thirds camera, and it looks awfully familiar! That's because the GH1 is, more or less, the G1, with added 1080p HD video capabilities.