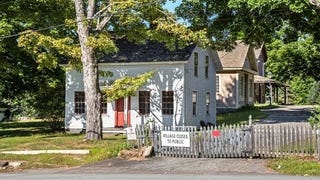 Ghost towns are known to pop up on Craigslist and eBay every once in awhile, but are often snapped up just as fast by eager developers or industrious preppers. Not so for the 62-acre town of Johnsonville, Connecticut which is currently up for auction after remaining abandoned for more than 20 years. Now, a group of…
It's been almost exactly six months since the Sochi Olympics wrapped up and the world promptly moved on to speculating about the Rio 2016. Since then, the area has been left holding the proverbial bag—which as Russian photographer Alexander Belenkiy shows us, is full of too many buildings and not enough people to…
There are plenty of things that can make a ghost town, from dam projects, to nuclear disaster. The folks over at BuzzFeedVideo put together a rundown of some of America's finest—and most unsettling—from a town built on a hellish inferno, to a city buried beneath Seattle.
It's been almost two years since the disaster at Fukushima, but the surrounding area is still off-limits, and will continue to be for who knows how long. The town Namie-machi has been vacant since its evacuation on March 11, 2011, and now Google's uploaded Street View images of the eerie, hollow shell that remains.
Remember the Chinese ghost city of Ordos? After visiting this unpopulated metropolis (which was built for one-million residents) in 2009, Al-Jazeera went back to find that even though Ordos was still mostly unoccupied, construction kept chugging along. But why?