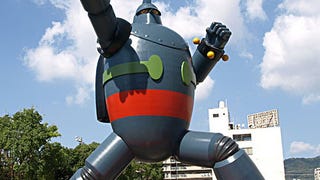 Tetsujin 28-go (exported to the US as Gigantor) was the first manga to feature a giant robot, back in 1956. Now visitors to Kobe can see the giant robot in person, thanks to this 60-foot tall statue. [via DVICE]
Free from the planning and the scaffolding, the $1.5 million Gigantor (or Tetsujin) statue is now complete.
A giant robot responds to wristwatch commands, and its eyes change color depending on how much robotic ass it's going to smash, in this awesome trailer for T-28, from the studio that's producing Astro Boy.
We're not discriminant enough in our miniature robot collecting to fully appreciate this Black OX robot from the series Gigantor, but even at our half appreciation it's still pretty incredible. Featuring 22 joints, LEDs, gyro sensors and accelerometer, Black OX only stands 17 inches tall, but he'll still manage to…
If Gigantor was the original Iron Man (he was called Tetsujin 28-gō, which means "Iron Man #28"), the sleek-black 5.5-pound 17-inch-tall BlackOx robot has to be the predecesor of Titanium Man. And like Titanium Man, this biped fighting robot is also probably the only baddy that really looks like he can kick Iron Man's…
The Gigantor photo frame isn't only big on size, like its name, but it's big on value as well. For $249, you'd normally only be able to get an 11-inch photo frame, but the Gigantor gives you 15 inches of mother-in-law- viewing glory (as opposed to the 19-inch monstrosity that is the PhotoVu). It even has built-in…