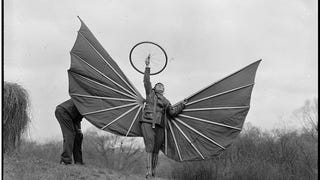 On a crisp April morning in 1931, a sturdy, middle-aged woman strode purposefully up a hillock overlooking the Spot Pond reservoir outside Boston, MA. Judging the wind conditions and checking that the newsreel cameras were rolling, Madame Helene Alberti adjusted her wings and prepared to launch herself skyward.
When the sculpture and stone mason Jean-Louis Boistel set to renovating the Chapelle de Bethléem (Bethlehem Chapel) in Nantes, France, he decided to add some unorthodox decorations to the 15th century church. While some of the newer stone gargoyles (or, to be more accurate, chimeras) adorning the pinnacles are…
Train stations in the UK sometimes broadcast mosquito noises that are so high-pitched they can only be heard by those under 25 years of age, but Japan's taken it one step too far with this age prediction gadget.
This $23 plush Gizmo from ThinkGeek dances while singing his bittersweet little mogwai ballad—a synthetically reproduced tune that we've come to realize would be the most grating sound known to man should it enter one's ears for more than a few seconds. And those poor Gremlins...their ears are gigantic! [ThinkGeek via …

First, Skype made their outgoing calls to landlines and cellphones in the US free. Now, Gizmo VOIP is giving them the "Nyah Nyah" by giving away international phone calls to real numbers in 60+ countries. They, unbelievably, call it their All Calls Free plan.