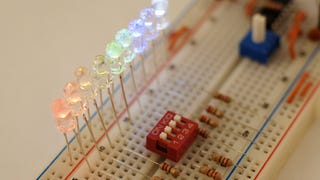 It's Saturday, it's noon; that can mean only one thing: It's time for Gizmodo University! We've got an action-packed lesson today as our intrepid Sparkle Labs host (and proud new papa) Ariel takes a look at switches, sensors, and detectors!

Are you ready to learn about electronics? You'd better be: Gizmodo University's interactive video course, Discover Electronics 101, begins tomorrow, Saturday October 23rd at Noon Eastern! Have your thinking hats on and your Discover Electronics kits ready!
Have you enrolled in Gizmodo University, the weekly series of interactive video classes we're doing with Sparkle Labs to teach YOU about electronics and electricity? Good! The first session will be posted this Saturday at noon. Try not to come too hungover. [Giz]
OK, we're calling it: Computers are more than a passing fad. We're so convinced of this, that we've teamed up with Sparkle Labs to teach you about electricity and electronics prototyping with series of interactive video classes.