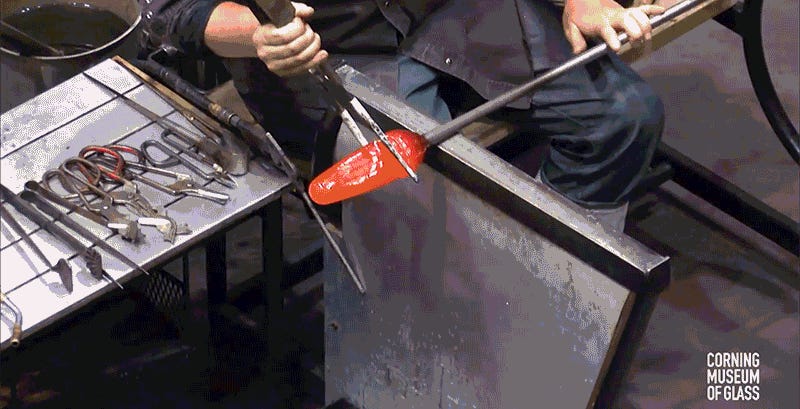 Working with glass not only requires a lot of artistic talent, it also requires nerves of steel given how fragile the material is. But master gaffer James Mongrain makes it look as easy as playing with Play-Doh as he turns a solid blob of molten glass into an intricate dragon sculpture.
Whether you agree with the practice or not, cannabis culture in America has quickly outgrown its Summer of Love stigma and gone mainstream. And with that normalization has come an insatiable demand for upscale smoking apparatuses—a demand being met by a new generation of uncannily talented glass blowers from around…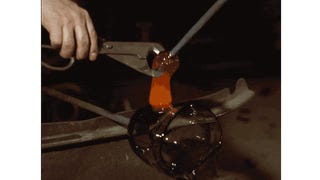 Videos of glass blowing may be a dime a dozen, but there's something different about the 1959 Academy Award-winning documentary, Glas. The entire 10-minute short is set to an occasionally eerie mixture of jazz, bebop, and the metallic punctuations of industry at work.
This is Glas, a 1959 Oscar-winning short subject documentary by Bert Haanstra about glass making, and it is the most mesmerizing thing you'll see today.
A glassblower's weapon of choice has been a simple blowpipe over 2,000 years now. It's a tried and true device. But that doesn't mean there's no room to jazz it up a little, and that's exactly what "Strange Symphony" does.
Making a Prince Albert's Rupert's drop is easy; you just let some molten glass drip into a bucket of water. But the resulting structure is so much more complex than the process that made it. The guys over at SmarterEveryDay took an in-depth look to explain why part of it can't be destroyed with a hammer, while its…