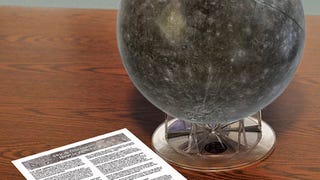 Attention fellow globe-enthusiasts: The good folks at Sky & Telescope Magazine have collaborated with members with NASA's Mercury-mapping MESSENGER team to create the first complete globe of our solar system's innermost planet, and it's beautiful. Do want!
Though he never actually crossed it, the Greek mathematician Pythagoras is sometimes credited with having first conceived of the Equator, calculating its location on the Earth's sphere more than four centuries before the birth of Christ. Aristotle, who never stepped over it either and knew nothing about the landscape…
I don't think I've ever been been this excited about a globe in my life. Don't get me wrong, globes are great, but according to the folks over at Sky & Telescope Magazine, we've just reached a major milestone for Moon globes — what they claim is the first major update to a physical lunar likeness in more than forty…
When I say, "Google that," you know exactly what I mean. And after you see Google's new visualization, Search Globe, you'll realize how many other countries (and people in them) think the same way.
Ulysses Nardin's Planet Earth clock is a jaw-dropping timepiece. How can you not feel like a criminal mastermind with an intricate mini universe perched on a pretty mahogany box sitting atop your desk?
This shiny black-and-chrome globe will hover above its black stand without any visible help—unless you want to spin it, in which case a gentle hand will help it on its way. Measuring 4 inches across, its base plugs into the mains and will cost you $137. [FunIce via Sci-Fi Tech]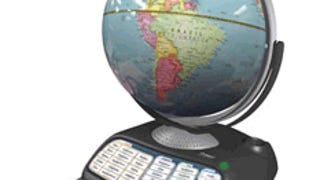 As the military begins recruiting kids at younger and younger ages it is important for our youngsters to know exactly where they will be shipped off to. Even elementary school kids need to start learning about the different countries in the Middle East—the knowledge will come in handy. This SmartGlobe from Oregon…