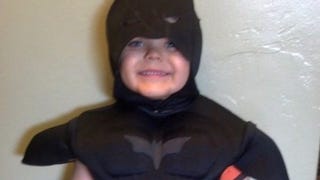 The Make-A-Wish foundation is letting the oh so cute Miles, a five-year-old boy fighting leukemia, live out every little boy's dream: to be Batman. Or I guess, Batkid. It's going to be awesome. Miles isn't just dressing up though, he's going to save people and fight bad guys too. Even better, San Francisco is going to…
Five-year-old Miles is currently battling leukemia and so the Make-a-Wish Foundation is giving him a much more entertaining battle to fight. On November 15th, San Francisco will become Miles' very own Gotham City, which he will patrol as Batkid.
The Dark Knight Rises is finally, finally, finally almost here—and while that's great, it also means loads of promotional material. Thankfully, some of it's pretty great, like these Nokia maps of Gotham City.
You think you know Batman? The Caped Crusader's mysteries are much deeper than you've ever fathomed. Over 60-odd years, in an assortment of media, Batman has gone in some incredibly weird directions. Here are 10 Bat-facts you didn't know. [io9]
After Meredith asked whether Bruce Wayne was going to show up in Smallville, certain commenters wondered just how long a trip that would be. That's not the easiest question to answer, considering the entirely fictional nature of both Gotham City and Superman's hometown. Not that that's going to stop us taking a stab…
Hasn't Gotham suffered enough? First that huge depression, then deranged lunatics trying to kill everyone in the city via gas, then a prison break, then this dude dressed up as a joker. And now they have to use COMCAST INTERNET? The humanity! Can't Bruce Wayne do anything about this? He can buy them out and put in…