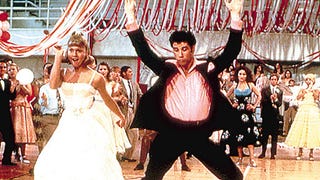 [Cue up "Summer Nights" for optimal effect]. You've almost definitely seen Grease six or seven times. It's on TV a lot, it's about 25-years-old, and c'mon, those songs are just about everywhere. But it's summer, and we're talking about summer love, so why not revisit the classic campy flick?
Everybody knows about using oil as a fuel source, but London is putting a new spin on the concept. Soon the city will be mining its own sewers to bring up glorious globs of old cooking grease and melting them down into fuel. Delicious.
Touch screens can get kind of gross. After all, you're rubbing them with your dirty fingers almost constantly. As it turns out, the greasy filth that adorns your screen can actually be manipulated to look pretty neat. It's still gross though.
KFC's Double Down will kill you someday. But we wanted to see what eating the greasiest finger-food known to mankind would do to a touchscreen device. The result: A disabled iPad and two ruined stomachs.