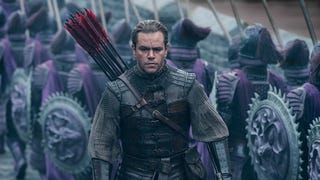 The new international trailer for Zhang Yimou's The Great Wall runs nine minutes and has no subtitles, so unless you're multilingual you will mostly only be able to understand Matt Damon's dialogue. However, you only need eyeballs to appreciate all the insanely lavish costumes, weapons, and battle scenes.

Director Zhang Yimou's (Hero) latest movie is a grand spectacle about giant monsters attacking the Great Wall of China. You know, like they do. It's also about the mercenaries played by Matt Damon and Pedro Pascal staying to fight for humanity alongside the Chinese armies that have trained for this their entire lives.

Agents of SHIELD casts a major part of Ghost Rider's backstory. James Wan starts teasing Aquaman's production. Rogue One gives us our best look at Darth Vader, who looks like... well, Darth Vader. Plus, new footage from the return of Gotham, and new looks at Voyage of Time and The Great Wall. Behold, Spoilers!
Oh, did I mention that it is also apparently the most expensive Chinese movie of all time? This looks and sounds like all kinds of madness. Update: Now with the first trailer!

Ted-Ed takes a look at the history of the Great Wall of China, telling the story of its origins and how it relates to what was happening in China at the time. Megan Campisi and Pen-Pen Chen tell the fascinating story of the 13,000-mile 'dragon' wall in this animated short.