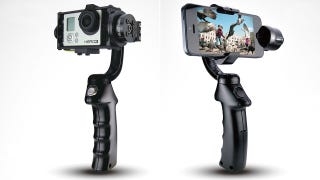 It doesn't matter how extreme your stunt was no one's going to want to see your home video when it's bouncing all over the place making people sick to their stomach. But now you can skip the stabilization software and stop the shaky cam problem at its source with these handheld gimbals.
Designers Revital Cohen and Tuur Van Balen use both real and fictional biotechnology to explore the connection between the natural and the man-made, and invite questions about the impact of biotechnology. One of their projects, Life Support, imagines a world in which dogs and sheep take the role of life-saving medical…
If you have it in your mind to steal a coach bus to make up for holiday expenditures, make sure it's not a Greyhound. Beyond the prospect of a beheading, the company can shut your joyride down from Greyhound HQ.
Using animals to grow human body parts has been done, but how about using a live sheep for dialysis? The idea comes from one design student Revital Cohen. The project she's calling "Life Support" seeks to use a sheep whose genome has been spliced with a human to produce human blood. The transgenic sheep then becomes…