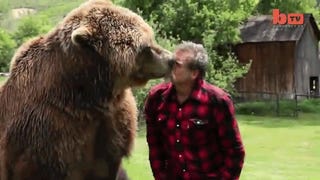 Oh, nothing to see here. Just a guy playing wrestle with a grizzly bear and letting it fake swallow his head. Wait, what? Mmhmm. Bear trainer Doug Seus plays around with an 8 foot tall behemoth of a beast the same way you would mess around with your dog. It's stunning to see.
We often describe an artist's full commitment to a project in physiological terms—pouring his blood, sweat, tears, heart, and soul into the piece. Director Kris Moyes examines what that creative energy would actually look like for Grizzly Bear's latest video, Gun-Shy, through a collection of surreal animated gifs.
Grizzly Bear takes us into another realm with the new video off its latest album, Shields. You're tricked into thinking you'll be following the story of a teenage ice skater, but then you're taken into another world entirely when she falls into the ice—an unexpected, artful tale to accompany a pretty song.