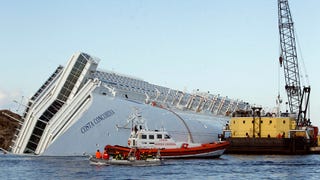 Starting next month the salvage operation for the capsized Costa Concordia will begin, with American and Italian companies being chosen to work together to bring the $600 million cruise ship back to port in one piece.
It's been a month since the fatal sinking of the Costa Concordia off the coast of Italy. And, now that the half million gallons of on-board fuel are being safely siphoned off, the ship's owner must decide—raise it from the seabed with hundreds of thousands of ping-pong balls or call in the Jawas and have it dismantled…
A new Army program, called Heads-Up Display for Control of Unmanned Ground Vehicles, is said to be developing an "eyeglasses-like display" that projects live video feeds from robots on the ground. That's no breakthrough. But what is new is that our soldiers may even be able to drive these robots—using only the natural…
I love cheeseburgers. But people like Eric Schlosser and Upton Sinclair have to ruin everything, forcing me to consider where my burger came from. So I had to ask: What's the most powerful meat grinder in existence?