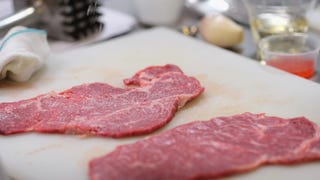 This week, some people in Britain and Canada were shocked to learn that their money contains trace amounts of animal fat. The new banknotes use animal byproducts that are found in everything from credit cards and crayons to glue and soap. But Gizmodo has confirmed that Britain and Canada aren't the only ones.

Following his deportation from Guatemala, anti-virus mogul turned public train wreck John McAfee is back on U.S. soil. It doesn't seem that he's back on solid ground though, so to speak. Earlier this morning McAfee gave a characteristically far-out interview on CNBC's Squawk Box.
For years, archaeologists have referred to an ancient set of texts known as the Maya codices to study that ancient civilization's relationship with astronomy and time. But now, a team of archaeologists has discovered a set of murals, hieroglyphs, and astronomical calendars deep in the rainforests of Guatemala, that…
Here's a barnyard beast to join the ranks of the two-headed Armenian cow. In the village of Santa Cruz El Chol, Guatemala, a mutant piglet was born after residents saw curious, hovering lights in the night sky.
The world is trying to swallow Guatemala, one terrifying sinkhole at a time. The latest occurrence woke 65-year-old Inocenta Hernandez, making her think there'd been a car crash outside. There wasn't. The sound was a 40-foot chasm opening directly under her bed.
Finally, someone got a helicopter and filmed the Guatemalan Gates of Hell. The 200-feet deep sinkhole—which swallowed a clothing factory—was caused by tropical storm Agatha's torrential rains. What I want to see now is someone exploring the bottom.