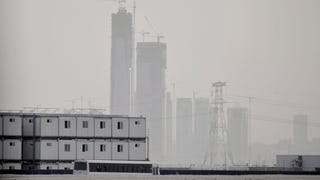 The Guggenheim. The Louvre. NYU. All have signed on to build outposts on an island off the coast of Abu Dhabi. And according to a new report from Human Rights Watch today, the development where these institutions will be located is being built with forced labor.
The Guggenheim in New York is as famous for its distinctive Frank Lloyd Wright eggshell as it is for its art. Design is a selling point for museums—which may explain why the Guggenheim opened up its search for an architect to design its new Helsinki outpost to the public. The competition ended up being the most…
From 2011 to early 2013, the BMW Guggenheim Lab traveled to three cities—New York, Berlin, and Mumbai—holding workshops and events as part of a mobile "urban think tank." The project outlined 100 trends facing each city—300 trends total—that the Lab's organizers think will define the cities of the future.
On the surface, the Guggenheim Museum in New York is hosting an exhibit for John Chamberlain and his sculptures made from destroyed cars, steel and other wrought metals. Dig a little deeper and you can listen to an audio tour that'll turn the art gallery into something even more awesome: a Decepticon exhibit that…