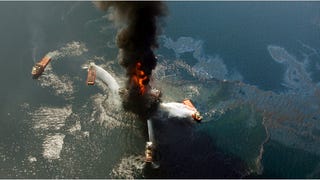 BP knew about the Deepwater Horizon oil rig's safety risks a year while ago. So, naturally, the "critical alarm system" that would've warned workers bad things are happening was intentionally disabled before the explosion that took down the rig.
How is the scrappy Plaquemines Parish Inland Waterway Strike Force cleaning up BP's mess as oil creeps into their backyard—the wetlands of southeastern Louisiana? With dustbusters. And they say they're "knocking the socks off" BP's cleanup crews. Video:
The beautiful and crystalline Blue Marble is now the Stained Blue Marble, created using NASA's most spectacular view of Earth and one of the scenarios for the spreading of BP's oil, as simulated by the National Center for Atmospheric Research.
This NASA time lapse video shows how the Gulf of Mexico oil rig disaster evolved from April 20, the day of the explosion, to May 24. The images were taken by the MODIS instrument in NASA's Terra and Aqua satellites.
Those damn BP liars are making things even worse trying to fix the catastrophe they caused. Their efforts are turning the massive oil flood into giant underwater clouds made of corrosive particles. Here's the underwater video to prove it.
Oil Reporter isn't a public shaming campaign for BP—no, that'll take care of itself just fine, thanks. This iPhone app, which lets Gulf Coast residents record every oily bird and patch of ruined swampland, is about fixing things.