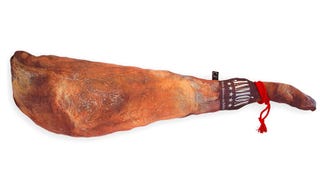 Ham is so delicious maybe you actually want to make love to it. Medically, it's not recommended, but you can curl up in pork's warm embrace with the ham leg pillow.
The ingredients label for a can of Hormel's SPAM with bacon — that non-perishable staple of survival kits the world over — lists "pork," "ham" and "bacon." Separately. In that order.
Astroblogger Leroy Chiao belongs to an elite, exclusive club of earthlings who have ventured into space. Also in that club? Animals. Lots of them. This is tribute to the world's bravest "astronimals."
The boys at DoubleViking sent this out to me. I mean for a site dedicated to naked 'tang and stupid nerd tricks, you can see where their interests really lie: in the search for the ultimate poached egg.